There are a number of stunning beaches on Grand Cayman Island, each of which has a distinct personality and set of amenities. When vacationers go to the Cayman Islands, which include Grand Cayman, Little Cayman, and Cayman Brac, they can be certain to find beautiful scenery, waters that are perfectly clean, a variety of fish to observe, as well as several gorgeous hidden locations where they can rest and soak up the sun.
You are in luck if you are planning to spend some time on Grand Cayman. The most populous island in the chain of Cayman Islands is home to a number of beaches that frequently rank high on lists of the world's best beaches, from Seven Mile Beach to Rum Point and more. The following are seven of Grand Cayman's best beaches, each of which offers a variety of exciting activities for visitors:
A tour we think you'll love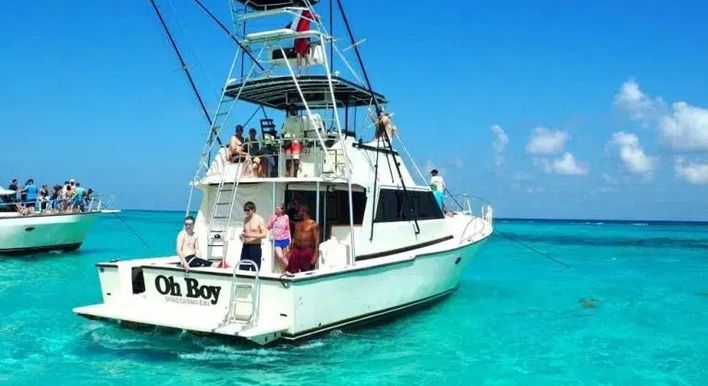 Oh Boy - Private Charter
From $500
View tour
1) Seven Mile Beach And Governor's Beach
Seven Mile Beach, located on the west coast of Grand Cayman, is a famous beach on the island and is well-known for having crystal blue seas and fine, white sand. It's a wonderful place to go swimming, sunbathe, and participate in water sports. It is public property so that anyone can visit, but because of this, the beach is also the most popular and most densely packed beach on Grand Cayman.
On the west coast of Grand Cayman, you'll find another picturesque beach called Governor's Beach. It is well-recognized as a destination for a variety of beach activities, such as beach volleyball, as well as for snorkeling. The proximity to the governor's mansion led to the naming of this section of the beach, which is actually a part of Seven Mile Beach.
2) West Bay Beach
The region of West Bay, located on the northernmost tip of Grand Cayman's west peninsula, is a fast-expanding location that features gorgeous houses as well as possibilities for dining and shopping.
The locals call traveling to this region "going west," and travelers will find a rich variety of sights and activities to enjoy during their time here. Some activities here include:
Features many unique restaurants such as Cracked Conch, Calypso Grill, Vivo, Pappagallo, and Heritage Grill

Beautiful beaches such as West Bay Beach and Barkers Beach

Watersports such as parasailing, kite surfing, and wakeboarding

Lovely walking routes along Boggy Sands Road

Several whimsical and Caribbean-themed beach bars

Great snorkeling opportunities
3) Rum Point
Rum Point is a secluded beach on Grand Cayman's north shore that is well-known for the calm ambiance it exudes as well as the shallow waters that surround it. Snorkeling and swimming are both quite popular activities that people like doing here.
In addition, there are shady areas that have beach hammocks, huts, and beach volleyball courts for guests to enjoy. Restaurants in the area of Rum Point provide pricing that is very reasonable for people on a tight budget.
4) Cemetery Beach
Cemetery Beach is also a component of the Seven Mile Beach system. However, in comparison to its neighbors, it offers a greater degree of seclusion. Cemetery Beach is the spot to go for coral reef snorkeling, especially if you adore brightly colored tropical fish.
This beach is surrounded by a variety of palm trees that provide shade. Another close attraction for scuba divers is the dive site of the USS Kittiwake. In addition, there are stunning views of George Town that can be had from this location.
5) Smith's Barcadere
Just south of George Town near Rum Point is Smith's Barcadere, a beautiful beach located on Grand Cayman's southwest coast. In addition to being well-liked for swimming and sunbathing, this beach is famous for the soft coral sand that it features, as well as the breathtaking natural scenery that makes for excellent photo opportunities.
Visitors are provided with access to picnic benches, outdoor showers, and public restrooms while they are in this area. This beach is ideal for those who are just starting to learn how to swim as well as families with young children due to its more tranquil waves and convenient location.
6) East End Beach
One of the most photogenic beaches on Grand Cayman may be found near the island's easternmost point: East End Beach. It is widely considered to be the most romantic beach on the island due to its reputation for peace and quiet and its location on the island. It is a popular location for couples to retire and rest quietly due to the fact that it is calmer and more secluded than other nearby locations.
Additionally, a reef provides protection from powerful waves. This is a beautiful spot that is perfect for paddleboarding or having a picnic. Concession stalls and food establishments are located in the area, but if you're lucky, you'll stumble into a public fish fry. At these events, guests can enjoy a platter of fried fish on the beach, with the fish having been caught by nearby fishermen only moments earlier.
7) Spotts Beach
Due to its location on the south side of the island, which is distant from the majority of the tourist attractions, Spotts Beach, which is located on Grand Cayman's south coast, does not get as much visitor traffic as the Seven Mile region. This is despite the fact that Spotts Beach is a gorgeous beach.
It is widely regarded as one of the top locations in which to observe sea turtles, and it is also an exceptionally good vantage point from which to observe the sun go down.
Head To Grand Cayman
The beaches in Grand Cayman are the envy of the rest of the world, and they frequently rank high on lists of the world's best beaches.
Whether you enjoy snorkeling, sunbathing, walking among starfish, kite surfing, or driving up to Starfish Point or Cayman Kai Beach on Grand Cayman's North Coast, the Cayman Islands' beaches have something for everyone.
Don't hesitate to get started booking your next vacation and exciting excursions to the Cayman Islands today!